Boost your SEO power
There are a lot of factors that need to be considered when search engines like Google have the power to determine ranking factors and are thus more visible to a viewer. External links are an important component of a strong SEO strategy and help boost your site's SEO ranking power. It may take time to master this link building process, but the effort will be worth it: you'll boost traffic to your site and improve your site's rank on the search engine's results page.
"SEO and Link" Add-on
To give your internal and external links more configuration options we have built the SEO and Link Add-on. By default, the posts link to the main article. Or short event descriptions link to a detailed description of the event. The same is true for product links. If further product offers are clicked you end up on the description page of the clicked product. But you do not necessarily have to do that! Maybe you come up with your own ideas, when you think about your special customer wishes your ideas will also incorporate links that point to external content. Here are a few suggestions:
Always well are referenced pages of your work, which link to the page of your customers.
If you only represent pictures and determine that when clicking on any image a secondary page is opened. Means represent only pictures the post type filter on "Media" is put, whether in a gallery slider or Masonry layout.
Links to your network, people, agencies or companies with whom you work closely together.
Quality or quantity matters
Adding trustworthy and informative external links of high quality to your pages will help improve the credibility of your website, whereas adding poor-quality links will harm you by giving your users less confidence in your site.
Linking to outside websites will not hurt your page rank as long as the relevant content you're linking to comes from authoritative sites.
An external link is more valuable if it links to popular and relevant pages that are highly ranked and related to the content on your web page. Valuable external links will also help to improve the authority of your website, by providing a viewer with references.
Why are external links important for SEO?
Using relevant external links on your site will ultimately improve the visibility and rank of your website. Though you don't want customers clicking on links that direct them away from your site. That's why it's important to keep in mind that other sites for different companies can provide external links to your website in their own content as well.
However, linking to trustworthy websites helps you also appear to be an authority and can help Google figure out what your content is about for SEO purposes.
No-Follow links
And if you don't want to give the linked source a better page rank, you can mark the link with a no-follow attribute. We had described the option setting in one of our other blog posts.
Read more about our Add-ons:
How it works
Install the Add-on as a normal widget with the WordPress admin plugins page. After activation there should be a new tab: "SEO and Link Add-on", as you can see at the screenshot below. Than check the "Custom link" option and continue with the next step below …
Download the add-on from GitHub here: SEO-Link Extension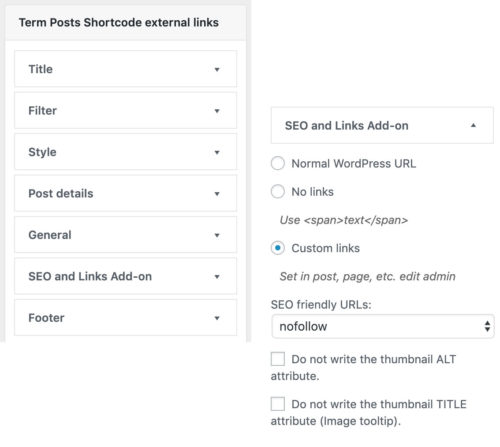 … Each edit page for posts gets a new widget box you can with a text field for the external link. Write a full URL into it and set the checkbox, if the link should open a new window or not.